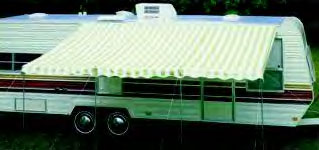 *$100 minimum applies
*Excludes Alaska and Hawaii

Rope and pole awnings are a simple awning for RV and utility trailers. These awnings are available in standard widths of 8', 10', 12', 15'. They will work where there is very little space between the top of the door and the roof.

Please Note: Rope and Pole awnings must be removed and stored before you move your vehicle.

Our rope and pole awnings are available in gold and white only. Projection from vehicle is a full 8', the 8', 10' and 12' models use 3 two piece poles, the 15' model uses 4 poles. Ropes and stakes are provided along with the awning rail for your RV or trailer. One year limited warranty against defects in material and workmanship. Awnings are not warranted against wind or water build up damage. As always free shipping on awnings.